Linking to your PC or laptop
At this stage you might be wondering why there's a section specifically dedicated to this as I've already explained about using USB to Serial adapters and how they link in to a USB 2.0 hub and thereby to your PC or laptop, but (as with all things astronomy) it isn't that simple. Having said this, the below process is normally just something you will need to go through once - as long as you take care to always plug things in in the same way, the settings chosen won't change.
For your software to operate correctly, you'll need to identify the COM port that is being used for specific tasks and take into account other considerations such as prioritising particular equipment and bandwidth.
For example; when using a webcam, it uses quite a lot of bandwidth when downloading a frame from the camera and if this fails during a guiding session, your guiding software may freeze and stop working giving you an unguided frame and rugby ball shaped stars. Another possibility is that a device attached to your USB ports may stop working and could cause your computer to stop operating (or hang).
So it's best to give priority to certain things and avoid bandwidth use where you can. For instance, if you save images to your hard drive during an imaging session, if your dSLR is given priority for this operation, it may take all of your available bandwidth and cause guiding to fail.
But it's not as bad as it sounds - prioritising is relatively straight forwards. You need to decide which device needs to have priority and connect that device first, i.e., if you are using a webcam for guiding, it should be given priority over other devices - a break or slow-down in the downloading of an image from your dSLR won't stop the image from downloading, it will just make it take a second or two longer, so if you are using a USB guide camera, connect it first.
For my setup, I follow this process:
Connect the guide camera - this is generally the most important factor - guiding has to be kept operational - the camera sends a frame every 2 seconds and sends adjustments to the mounts at the same regular intervals. So when you first connect up - plug the USB 2.0 port in to your PC, wait until it is detected and installed, then plug in your guider. In the case of a webcam, connect the serial to USB adapter first. The PC will 'see' this and give it priority (downloading a frame can absorb a very short delay, but exposure communications with the camera must get through when the commands are sent). Next you will need to identify the port used for this communication.
Click 'Start' and select 'Control Panel'
If the view in Control Panel is 'Category View' select 'Performance and Maintenance' then 'System'
If the view in Control Panel is 'Classic View' simply select 'System'
Click on the 'Hardware' Index Tab and then click the 'Device Manager'
Under 'Ports (COM & LPT) your computers ports are listed
One of these will show a value for your serial to USB adapter
These instructions are for Windows XP, but the process is very similar for Windows Vista.
You can use the 'advanced' button to change the assigned port number, but you should be careful as some ports are 'reserved' for internal hardware - try setting your software with the existing port number before changing that value - values such as COM 5, 6, 7, 8, 9 are normal and usually not taken by other devices, regardless of what your PC says.
Next, plug in other connections to your guide camera, i.e., in the case of a webcam, connect the cameras other USB connection - wait until the camera is detected and connected. At this point you can open your guiding software, set the COM port value obtained by following the above instructions and test that your camera is working properly.
Next is your output cable - the mount control cable - if using a USB to Serial adapter then connect this first, then plug your cable in to the adapter. Check that the software has established communications with your mount.
Now it's time to connect your dSLR camera - it should have to lowest priority on bandwidth - if an exposure starts a few seconds late it won't matter much and if the download of the image takes a few seconds longer again, this is unimportant - most up-to-date laptops and PCs will have enough bandwidth to cope but as I have stated before, it's important to prioritise.
Again, if using a USB to Serial adapter then plug that in first and identify the port it is using following the above instructions.
Once identified, set this value in your dSLR control software. Finally, plug in the camera's USB cable.
That's it - you're now ready for imaging.
Using dSLR control Software.
This final section is going to be short - there's a lot of software out there that you can use to control your camera, so rather than going into detail of how this is done, I'm simply going to talk about the standard functions that are available in this type of software.
Firstly, take care when choosing your software - not all models of Canon dSLRs are supported by all software. Canon use a processor called 'Digic' - different models have different versions of this processor from Digic I to Digic III and different drivers are needed for the later Digic III so it is not supported by all software.
The following is a list of some of the popular models of Canon cameras and the processor used:
300D - Digic I
350D - Digic II
400D - Digic II
450D - Digic III
1000D - Digic III
10D - Digic I
20D - Digic II
30D - Digic II
40D - Digic III
dSLR software normally carries out the following functions:
Adjust the cameras settings, i.e.,
- ISO
- image quality and size
Set exposure times
Set gaps between exposures
Set numbers of exposures
Normally, you can use the software to aid focussing - take a quick low quality image at high ISO of a star and set the focus until the image is as pin-point as possible. This speeds up the focussing process and gives more accurate focussing than any achieveable by just using the camera by itself.
Once you have got a good focus, you can set the software to take a series of images and even change ISO and exposure time part way though. Personally, for most nebulae, I set the software to take 12 5 minute exposures at ISO 800 spaced by 45 seconds, followed by 6 10 minute exposures at ISO 400 again spaced by 45 second intervals. I set the software to save the images directly to my laptop so I can both see the results as they happen and start on processing.
A note on Darks and Flats.
A dark shot is a shot taken with the telescope's end cap still on, under the same condition as the main images, i.e., from the above, a 5 minute shot at ISO 800 and a 10 minute shot at ISO 400 could be used. They then show up all of the camera's internal noise both from heat of the sensor (electro-thermal noise) and bright pixels. They are used during processing and can be 'subtracted' from your images to remove noise.
Flats are produced by taking a shot of a well lit white surface and show the impact of any dirt on the sensor or variations in illumination of the sensor. You use these by 'dividing' the image by the flat in your processing software.
So how useful are they? This shot: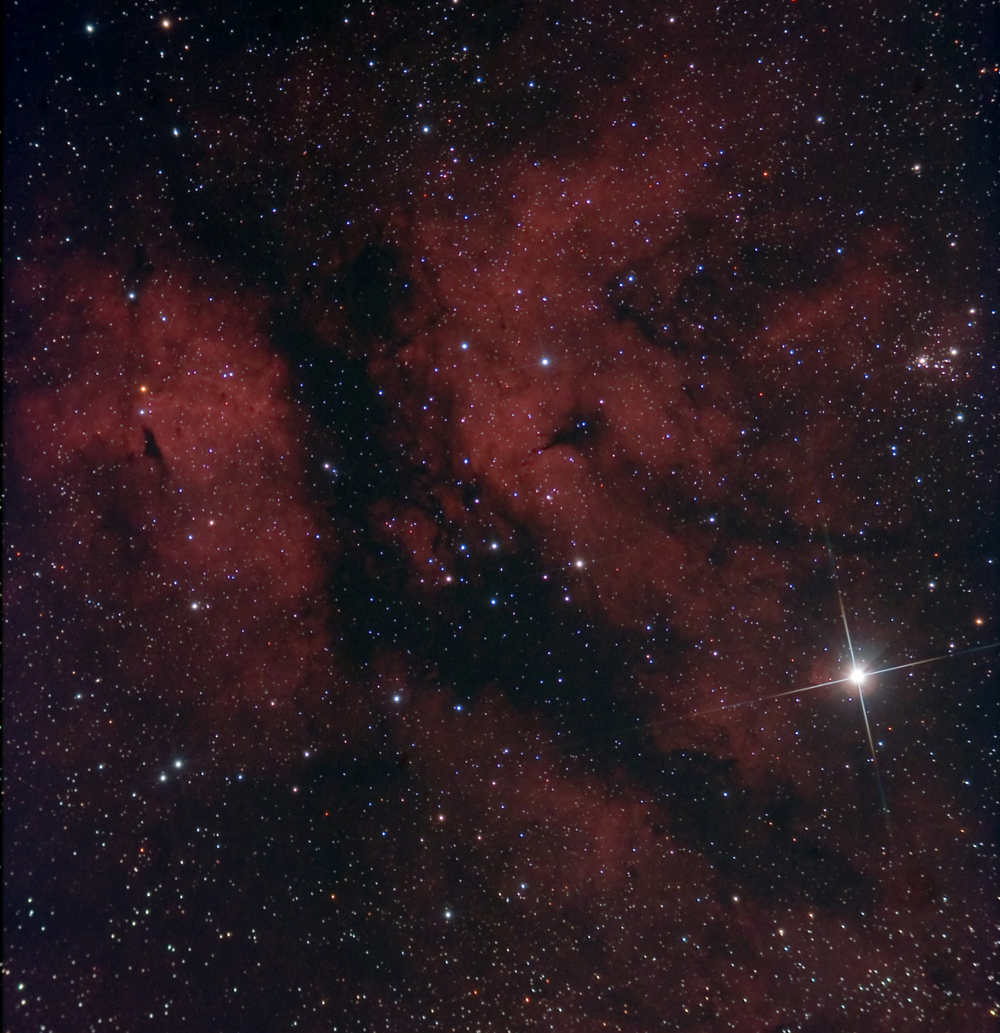 was taken without using flats or darks, so perhaps you can get away without them at all. Having said this, darks are useful for cleaning up noise in shots that may have to be stretched quite hard during processing and flats are useful if the sensor surface is marked or damaged.
Andy Ellis, July 2008.
NOTE: All details are correct at the time of writing, but please check other sources if you are unsure. I will accept no responsibility for any actions taken following the advice in this document.